A PORTRAIT OF IVAN YEGOROVICH ZABELIN (1820–1908)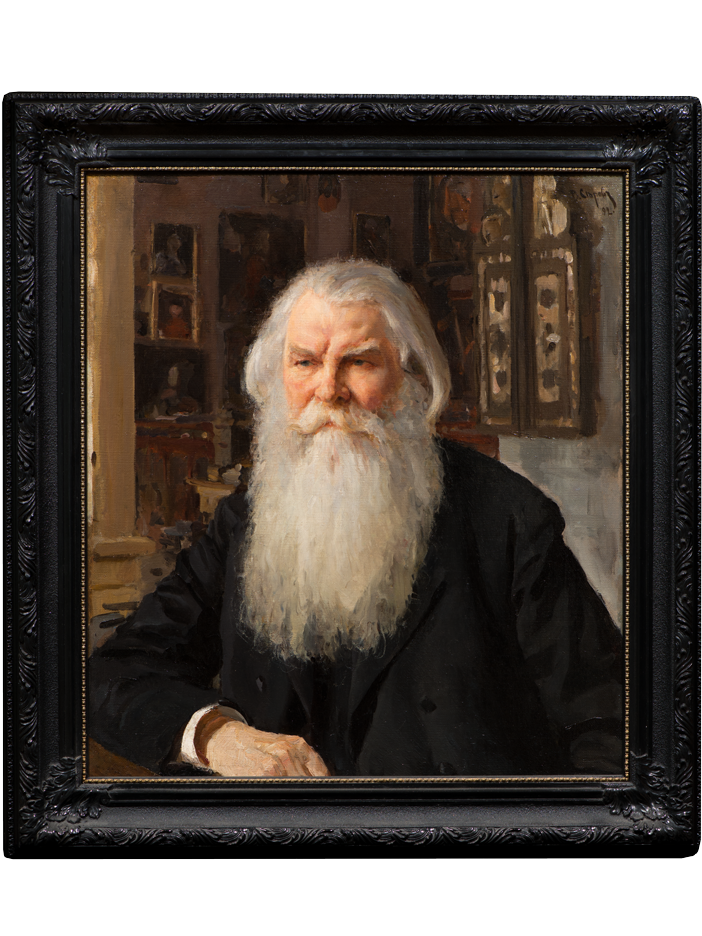 The Artist Valentin Alexandrovich Serov (1865–1911)
Russian Empire
1892
Inscription at the top: V.Serov 92
Canvas, oil paints
80,0 х 71,5 cm
Receipt: given by the author in 1892
Open storage 2
The works of V.Serov became essential part of the Museum collection: the artist was very closely connected to the Museum; it is no wonder that he was provided with a studio in the building on red square for working on a group portrait of the family of Emperor Alexander III. It is also here Serov painted Ivan Yegorovich Zabelin, who in 1879 was elected Chairman of the Society of History and Antiquity and then a Deputy to Chairman of the Historical Museum. In 1884 Zabelin became a corresponding member, and in 1892 – an honorary member of the Academy of Sciences. In the same 1892 was celebrated the 50th Anniversary of Zabelin's scientific work. Same time admirers and researchers have commissioned his portrait.
Outstanding historian and archaeologist Ivan Y.Zabelin posed for artist in his usual surroundings, in the Museum library, the walls of which are covered with ancient folding icons and chamber portraits. In Zabelin's appearance clearly seen Old Russian origin to preservation of which he dedicated his life in the Museum. The portrait confirms V.O.Klyuchevsky's judgment that "Everything that we see on and around modern man is, figuratively speaking, his autobiography and self-description".
"The Prince (Grand Duke Sergei Alexandrovich) wanted to see my portrait and asked, "Where's your portrait". "In that room", I said. He also took a long look and said that the "artist painted you very severe. You never are". And the Grand Duchess (Elizabeth Feodorovna) also noticed that. I said: "It was only a concern, and the artist depicted it". M.P.Stepanov added that he would have made a caption to the portrait: "Ivan Yegorovich dissatisfied with the proceedings in the Museum". I said, "Yes. That is so. That's the case". The Grand Duke noted that the Chief should always be dissatisfied. It is Better for business." (Ivan Yegorovich Zabelin. Notebooks and diaries. 1892).
V.A.Serov created a chamber portrait for the internal Museum circle. It is a unique sample of Russian portrait painting.
1
Collections