Siberian album of photographs from the family of Volkonsky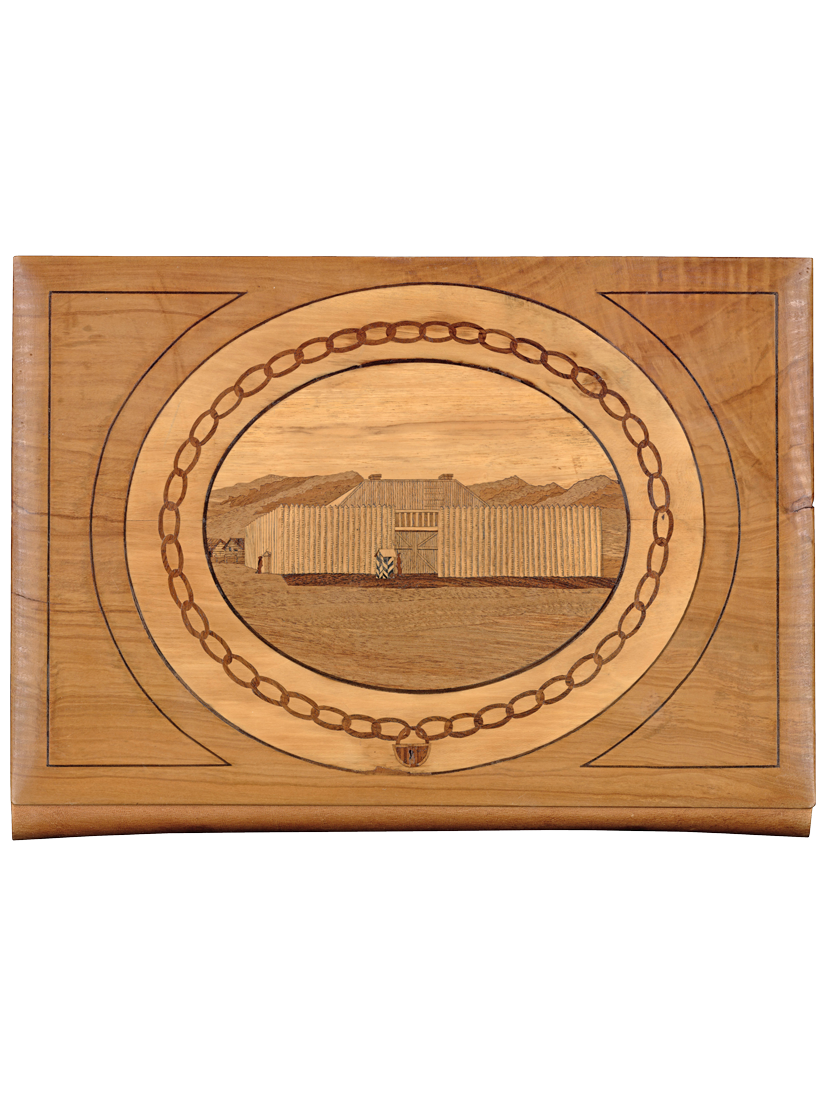 The album cover is made of inlaid wood by N.A.Bestuzhev with the image of the Chita Ostrog by drawing by A.I.Yakubovich
Siberia
1850s
Inscription on the back of the lid – Nice 8/20 December, 1858
Wood, intorsia
34 х 28 cm
Receipt: gift of Helene Vadimovna Volkonsky, grand-grand-daughter of the Decembrist, 2001
Showcase 8
According to the family legend, the cover of the album, decorated with wooden inlay, was made by the Decembrist Nikita Mikhailovich Muravyov in the 1830s. At that time he lived on a settlement in the village of Urik near Irkutsk not far from the Volkonsky family.
The inlay picture, made of different species of Siberian trees, reproduces a watercolor by an artist Decembrist Nikolay A.Bestuzhev: "View of the Chita Ostrog" rimmed by the shackles made in 1829–1830. Chita became the site of the first joint settlement of the Decembrists on penal servitude in Siberia.
The album keeps photographs of the members of Volkonsky family and of their friends the Decembrists: G.S.Baten'kov, I.I.Pushchin, I.A.Sutgof, M.I.Muraviev-Apostol, A.V.Poggio. These photographs were taken after the amnesty of 1856, when after 30 long years of hard labor and exile they returned from Siberia to European Russia, where they were enthusiastically welcomed by contemporaries.
The owner of the album was Prince S.G.Volkonsky (1788–1865), the hero of the Patriotic war of 1812. After the events of December 14, 1825 he was convicted and sentenced to hard labor for 20 years. His wife Maria Nikolaevna, daughter General N.N.Rayevsky, the hero of the Patriotic war of 1812, came to Siberia to share with him all years of exile. Since 1836, the Volkonsky's lived on a settlement in Urik. After the amnesty, the family lived in Moscow for some time, and later in their estate of the Voronky where they found their last asylum.
1
Collections