GARDEN BENCH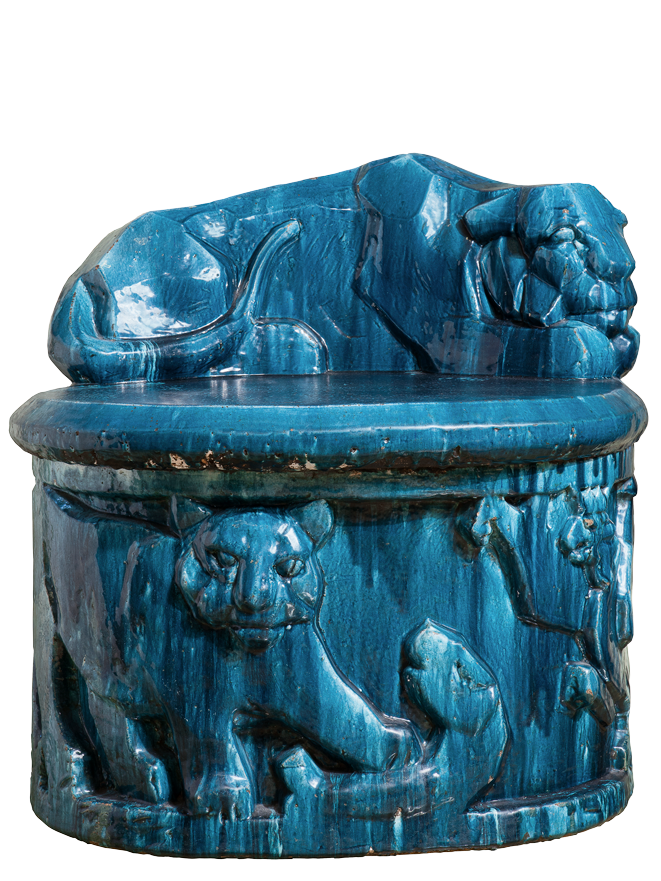 Artist M.A.Vrubel (?)
Art pottery "Abramtsevo", Russian Empire, Moscow
End of XIX – beginning of XX Century
Majolica, coloured glaze
Height: 65 cm, base 64 x 64 cm
Receipt: purchased from A.A.Vorobyev in 1972
Open storage (bench)
In 1889 in his estate near Moscow Russian entrepreneur and philanthropist S.I.Mamontov established an experimental ceramic art workshop to revive Old Russian majolica. This workshop became a phenomenon in Russian culture.
Artist Mikhail Alexandrovich Vrubel raised production of majolica to the level of refined art.
Many of the artists and sculptors of the turn of the XIX–XX Сenturies, such as V.A.Serov, A.Ya.Golovin, K.A.Korovin and M.M.Antonolsky, were inspired by the capabilities of ceramics. This new unusual to them material provided new ability to implement their works. Working together with outstanding technologists P.K.Vaoulin and G.M.Luzan they were able to create unique objects of decorative art.
The products of the workshop were highly esteemed in Russia and abroad. In 1900 at the World Exhibition in Paris S.I.Mamontov received a gold medal as a manufacturer of majolica products, and M.A.Vrubel was rewarded with a gold medal for his works.
The image of the Libyan lioness on the bench repeats the image of the mask of lioness, made by Vrubel in 1891. This image became the hallmark and the trademark of the Abramtsevo workshop.
1