Big State seal of tsars Ivan and Peter Alekseevichy (sons of Aleksey)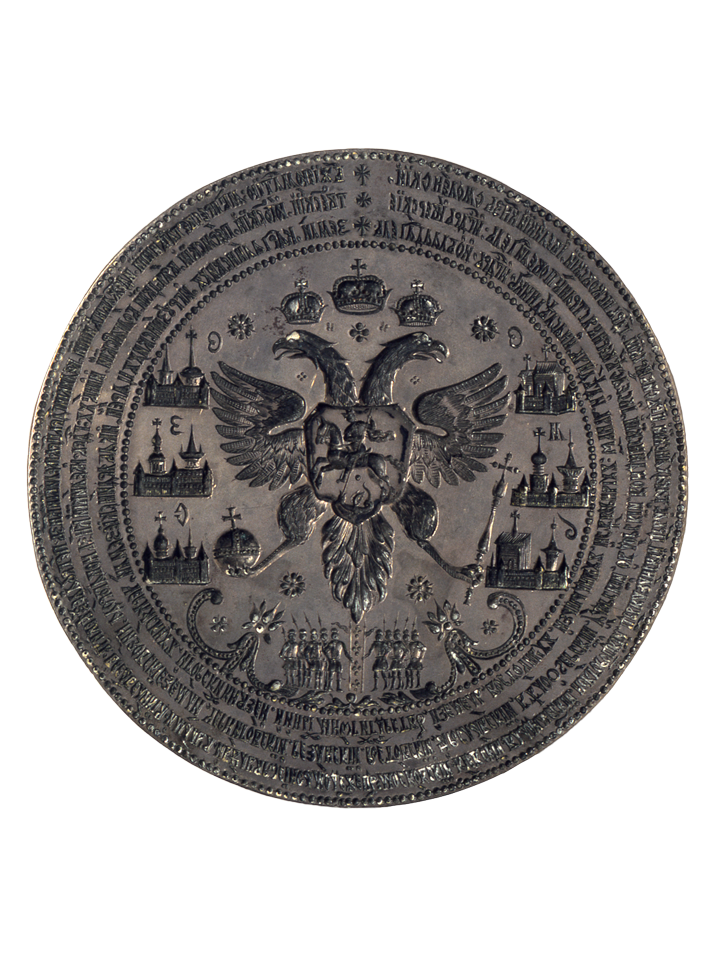 Craftsman F. Mikulaev
1682
Silver; casting, carving
Diameter – 136 mm, thickness – 8 mm
From: Lenin State Library (former Rumyantsev Museum), 1946
Showcase 9
Documents of international significance – charters "to all the surrounding and great sovereigns, to whom they wrote ... with full titles" were affixed with a big state seal.
In 1676, Tsar Fedor Alekseevich ordered "boyar and butler Bogdan Matveevich Khitrovo and clerk Andrei Yudin to make him a Big Great Sovereign's seal with his Great Sovereign's name and titles, also with the same image on the seal that was made on sovereign's father seal – tsar and Grand Prince Alexey Mikhailovich blessed in memory. Manufacturing of the Big State Seal was entrusted to the silversmith of the Armoury Chamber Fyodor Mikulaev.
After the death of tsar Fyodor Alekseevich in 1682, the reign was transferred to the younger brothers of tsar Fyodor Ivan and Peter Alekseevich. By the decree of tsars, the seal was altered in their name, for which we find confirmation in the correspondence of the Ambassadorial Prikaz: "and in (1682) those new seals were altered in the silver chamber in the name of the Great Sovereigns and Tsars Ivan Alekseevich and Peter Alekseevich".
More information...
Tsars-co-rulers Ivan Alekseevich (1666–1696, tsar from 1682), son of Tsar Alexei Mikhailovich from the first marriage with Maria Ilyinichnaya Miloslavskaya and Peter Alekseevich (1672–1725, tsar from 1682, from 1721 – All-Russian emperor), son of tsar Alexei Mikhailovich from the second marriage with Natalia Kirillovna Naryshkina were enthroned after the death of their elder brother, Tsar Fedor Alekseevich, as a result of the Strelets revolt in 1682. Their sister, princess Sofia Alekseevna, became Regent for young tsars. In 1689, matured tsar Peter Alekseevich decisively removed his sister from the political arena and dealt with her supporters. After Ivan Alekseevich death in 1696 the actual autocracy of Peter I was established in Russia.
1
Collections