THE ALEMBIC OF MICHAEL V.LOMONOSOV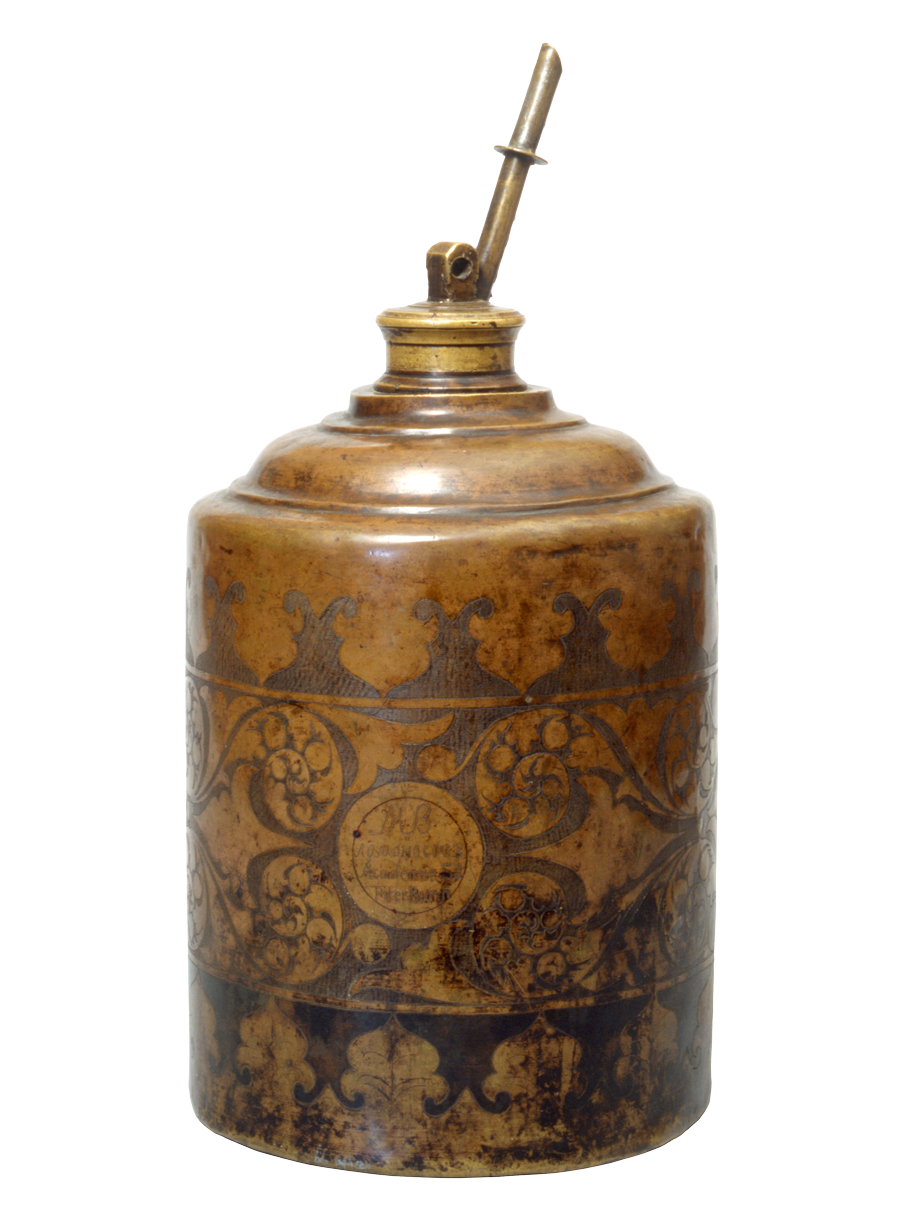 Craftsman Phedor Kiselev
Ural, Demidov's Workshops
1748
The inscription on the walls: "MV / LOMONOSOV / Acadtmie St / PITERBURHC»Stamps on the outer side of the bottom: "SIBIR", "1748", "M.F.K"
Copper, brass; casting, embossing, engraving
28,0 x 16,2 cm; volume 4 l
Receipt: from the Stroganov museum frund in 1924
Showcase 15
The alembic comes from the first chemical laboratory in Russia opened by Michael V.Lomonosov at the St.Petersburg Academy of Sciences in 1748. The alembic was made of a quarter – a special type of roadware in the form of a bottle with a screw-on lid intended for transportation and storage of liquids.
More information...
The quarter was made in copper-vessel workshops of private factories of the Demidovs, the Ural industrialists. The enterprises belonged to members of this famous dynasty of Ural entrepreneurs. Since 1730-ies existed a large-scale production of copper household utensils, including quarters.
The equipment needed in the laboratory was ordered at personal requests of Lomonosov. Later it was improved in academic workshops by his students with his participation. In the laboratory the vessel was equipped with a steam pipe and was used as alembic for chemical experiments with steam distillation of liquids.
The surface of the alembic is covered with an ornament in the style of "Peter's Baroque". A round medallion inserted in ornament combines interlaced names of Lomonosov and the St.Petersburg Academy of Sciences. The decorative finishing of the alembic was probably made in the laboratory, perhaps for some significant reason. It is possible that Lomonosov did it personally. His dedication to the applied arts and the artistic style of era of Peter I is well known.
1
Collections