CHANTS OF THEODORE THE FARMER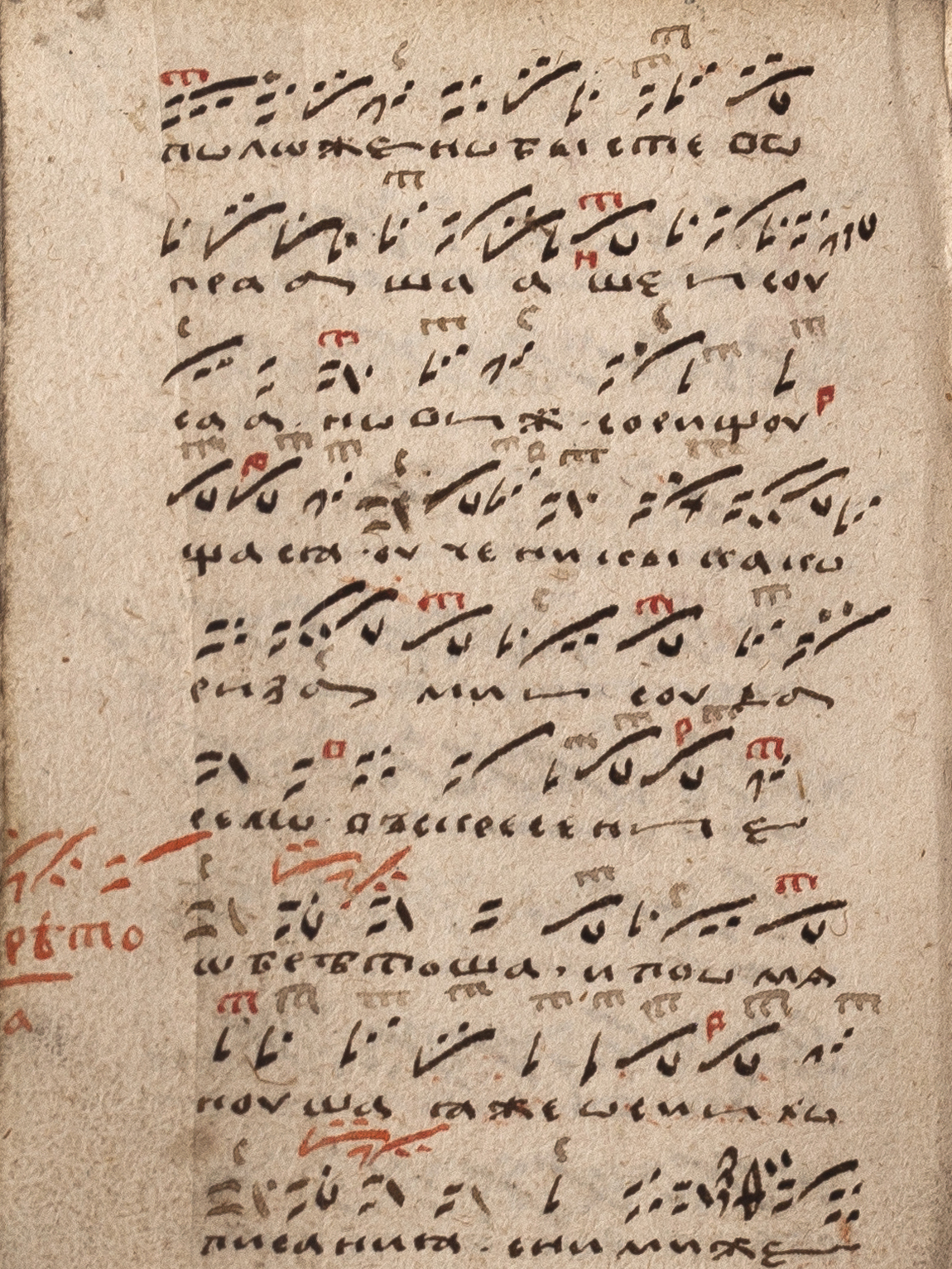 The last quarter of the XVI century
"IN SUMMER 7167 (1659) FEBRUARY THE 2 DAY THE GREAT SOVEREIGN, HIS HOLINESS NIKON, PATRIARCH OF MOSCOW AND OF ALL GREAT AND LITTLE AND WHITE RUSSIA HAVE DONATED THIS BOOK TO HIS HOUSHOLD IN THE RESURRECTION MONASTERY THAT IS IN THE MOSCOW DISTRICT ON THE ISTRA RIVER". On page 47 an entry: "TAKEN... FROM FEDKA THE MAKER IN THE YEAR HUNDRED AND ONE IN MAY ON 19 DAY, AND GIVEN PROKOFIY THE SAME MONTH ON 20 DAY ON A WEEK IN MEMORY OF ALEXEI THE WONDERWORKER OF ALL RUSSIA"
Paper, ink, vermilion; hook notation, semiuncial, grass-hand
10,0 x 7,2 cm
Receipt: from Resurrection Monastery of New Jerusalem
Showcase 1
Fedor (Theodor) the Farmer (the second half of 1530s – 1610-s) was an outstanding Russian composer of chants. The founder of the largest school of Znamenny (unison melismatic lithurgical) singing, one of the composers of the Great Znamenny chant. Znamenny chants of Theodore the Farmer are recorded by hook notes. The Old Russian professional musical art was called Znamenny singing after the name of the symbols used for its record – "znamena (banners)" or "hooks". The "Hook" meant sometimes just one sound or several sounds, and sometimes a whole melody. Znamenny singing, or chant, was monophonic and sung without musical accompaniment. In the XVII Century was invented a polyphonic partsong singing and a linear recording of musical score. The transition from Znamenny chant to partsong was gradual and two types of notation – the hook and the staff score – coexisted for some time in parallel.
More information...
The manuscript is a collection of selected Church hymns, selected probably presumably to the taste of the owner or compiler. The unique composition of the collection, most likely, was not intended for service, as most of the singing books, but for cell use. This book is a collection of various chants, in particular authors': "troic[ky]", "tro[icky] rather Zuevs[ky]"; "new transcription of how they are now singing in Chudov", "tran[scription] by the Farmer" made in the znamennaya and the demestvenny notations.
1