Karion Istomin. Alphabet book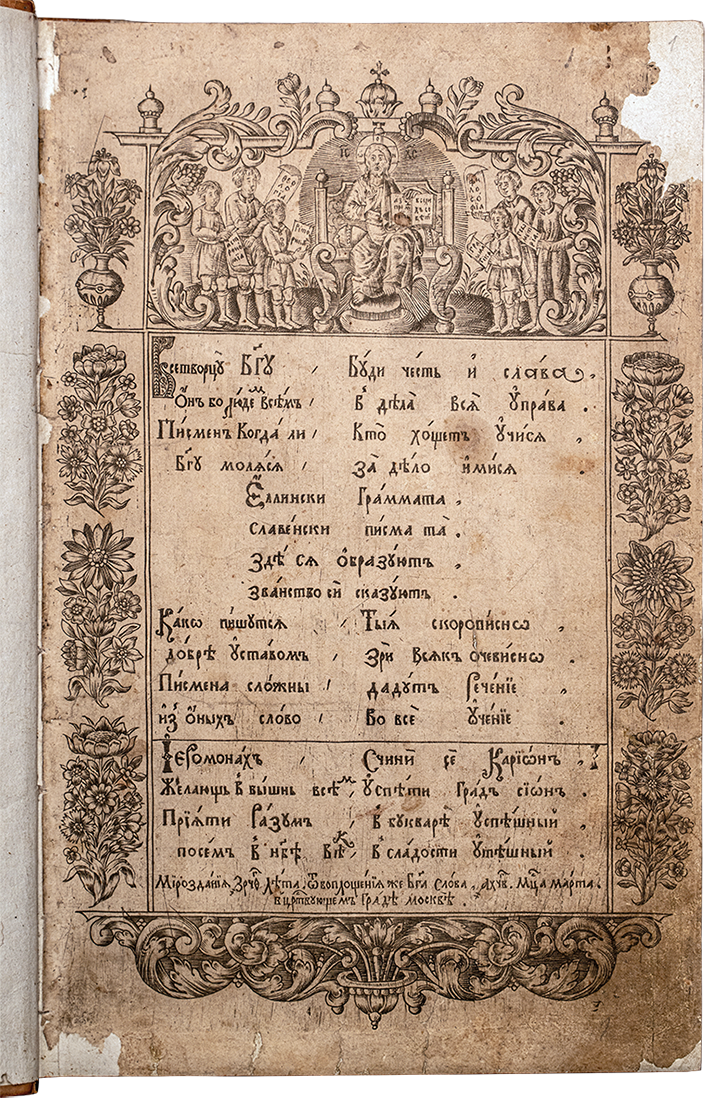 Printmaker L. Bunin
Moscow. Print yard
1694
Paper; copper print, letterpress print. Cardboard binding, paper marbling, leather
1º; 30 x 19,3 cm
Acquisition: incl. in the anthology by I. Zabelin, 1909
Showcase 6
"The Slavic Russian Alphabet book of uncial and cursive (skoropis') handwriting as well as Greek, Latin and Polish" is a unique whole-printed book, the first illustrated Alphabet book with moralizing poems on each letter. Made by Karion Istomin, a hieromonk of the Chudov monastery (end of the 1640s–1717), royal poet, Print yard editor and teacher of royal children.
The text and illustrations of each page were carved on copper by a famous printmaker of the Silver court and Print yard Leontiy Bunin.
More information...
The printed edition of the 1694 Alphabet book is an edited reference of other handwritten illustrated Alphabet books made by Karion Istomin for royal children in the beginning of 1690s. One of them was made by March 17, 1693 and was gifted to tsarina Natalya Naryshkina for her grandchild, prince Alexei. It is now stored on the museums of Moscow Kremlin.
The second manuscript stored in the funds of the Historical museum was made by order of the tsar Ivan V Alekseyevich's (1666–1696) wife Praskovia Saltykova (1664–1723). In the appendix to the Alphabet book Karion congratulates the tsarina upon the Nameday celebrated on October 14, 1693 and mentions the 'book gift'. At the time, Praskovia Saltykova had two daughters – babies Ekaterina and Anna. The Alphabet book most likely was meant for them.
Printing of the Alphabet book was funded by a local merchant Ivan Agapitov for a wider audience.
The Alphabet book is extremely illustrative. Each letter on 38 pages is presented in different types of handwriting – from half-uncial to vivid cursive (skoropis'). The letters themselves are shaped like people, animals, birds, fish and fantastic beasts. Below there are realistic pictures of things, beginning with each letter – utensils, clothes, arms etc. On the bottom of each page there are couplets that explain the direct and symbolic meaning of the illustrations and convey a short moralizing message.
1