Sailor's caftan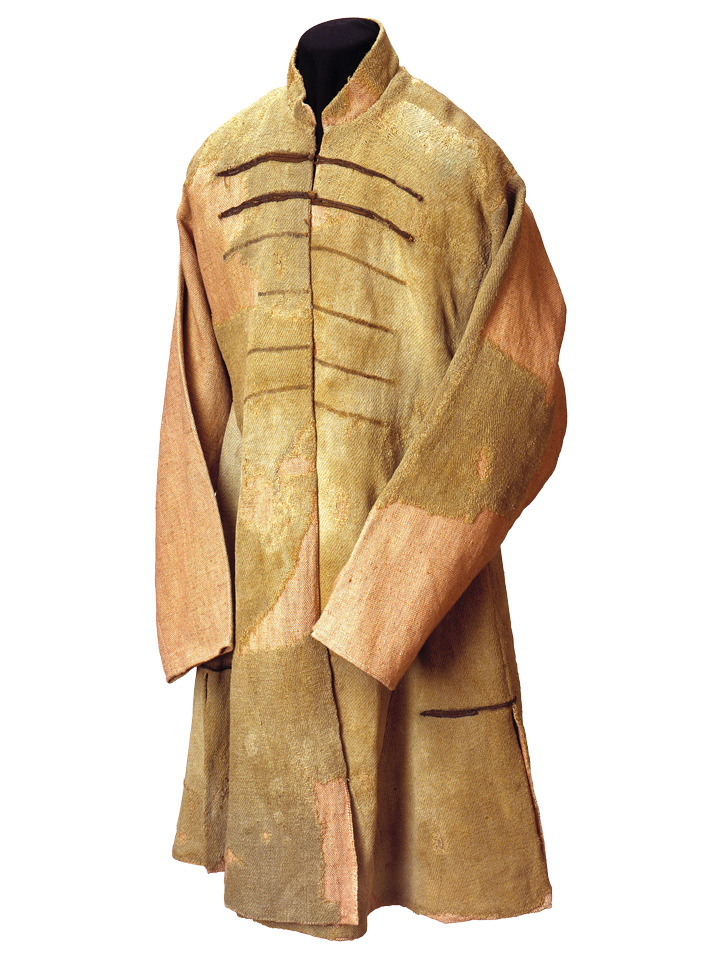 Russia
XVII century. Reconstruction of the 1940s
Cloth
Length 99,0 cm; shoulders' width 50,0 cm
From: materials of the expedition of the Arctic Institute led by A. P. Okladnikov in 1945
Showcase 1
Separate details of homespun cloth were found among the remnants of the shipwrecked Russian trade and industrial expedition of the early XVII century on the Faddey Island, near the northeast coast of the Taimyr Peninsula. In workshops of the Historical Museum, the restoration of fabric and reconstruction of old Russian clothing were carried out. Findings on Faddey Island allowed to expand the understanding of the geography of the Russian Arctic navigation of the XVII century, oriented east, towards the Pacific Ocean.
More information...
The penetration of the Russians beyond the Urals began long before the campaign of Yermak. The first to go there were Novgorodians and Pomors - residents of the Russian North. One of the main ways in which Russian industrialists (traders) and merchants went for the main Siberian treasure - fur, passed along the coast of the northern seas. Polar sailors, exploring the Northern Sea Route, managed to reach territories that were inaccessible even to the indigenous people of Siberia.
In 1940, on the shore of the Arctic Ocean, on the northeastern tip of the Taimyr Peninsula, a group of Soviet sailors from the hydrographical ship "Nord" discovered the remains of a wintering of the shipwrecked Russian trade and industrial expedition of the early XVII century.
During archaeological excavations carried out by the Arctic Institute in 1945 on the deserted island of Faddey, and then in Simsa Bay, wreckage of a ship, a sailing block, navigation and hunting equipment, household items, jewelry, fragments of silk and cloth dresses, remains of peltries and a large number of Russian coins of the XVI – XVII centuries were found.
Among unique findings of the expedition of 1945 was the "sailor's caftan", restored in the Historical Museum under the leadirship of L.I. Yakunina by the example of a model of a men's shirt of the XVII century. The cut and decoration of the caftan corresponds to the descriptions of Russian clothes made by foreign travelers, and correlates with the well-known preserved examples of the old Russian men's suit.
1