Icon "Saint bishop Alexii of Moscow set against a landscape background"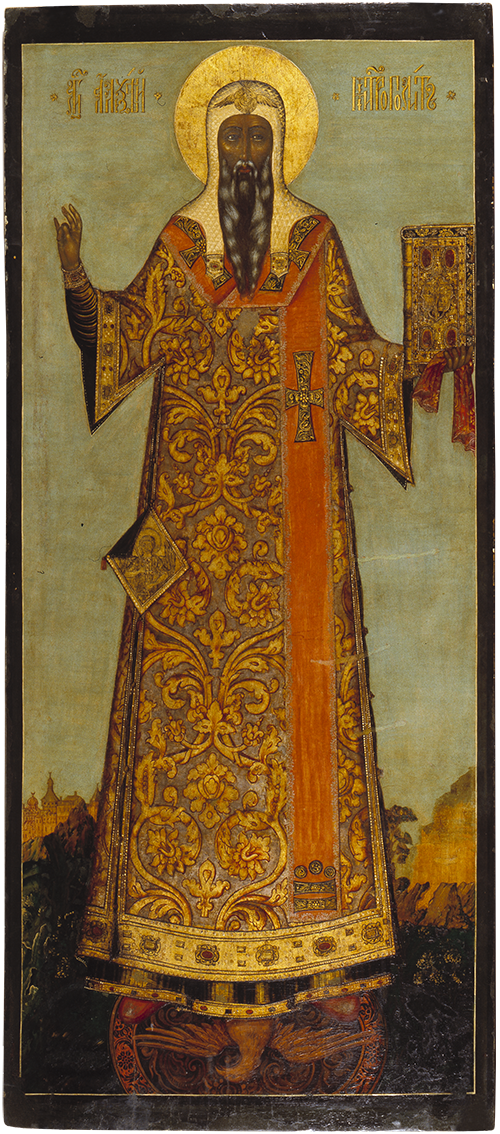 Vasili Maximov
Moscow, Armory Chamber
Around 1698
At the back of icon inscription: "Wrote by Va…ei Maximov". In the lower left corner of icon a relative image of Saray – the capital of Golden Horde
Wood, levkas, egg tempera, colored lacqer
147,5 х 69 cm
Acquisition: from the Transfiguration of Christ church of village Bolshiye Vyasemy in the B.A. Golitsyn's domain
Open storage
Saint bishop Alexii (deceased 1378) – metropolitan bishop of all Rus 1354–1378 – was an outstanding Church and state figure. As a caretaker of Dimitry Donskoy he took both clerical and governmental power in his hands. He supported Dimitry in his quarrel with princes of Twer and Suzdal, acting as a piecekeeper in conflicts and supporting the interests of Moscow princes. He stood against Lithuanian princes, who were eager to organize a Metropolitan archdiocese in Kiev. He was also a supporter of an idea of diplomatic relationships with Golden Horde in order to avoid new invasions to Rus. He organized Andronikov and Chudov monasteries in Moscow and helped with spreading the idea of cenobium. Furthermore, he translated the New Testament from Greek to Slavic.
More information...
Bishop Alexii is famous for his miracles, firstly of healing khans wife Taidulla. As chronicles say, in 1357 bishop Alexii went to The Horde. According to the literary legend, he was able to сure blindness of Janibeck-khan's wife Taidulla with prayers. She gave him instead a yarlyk (letter of the khans) in November that year, which has been preserved until nowadays. It says, "Russian Church, praying for khans, is exempted from all taxations, requisitions and violence on the part of authorities".
On the icon saint bishop Alexii is set against a rough panorama of Saray-city, where several mosques can be seen.
The icon was painted by Vasily Ivanowich Maximov (1677–1703) – a Tsar's iconographer- around 1698. It is known that this year he painted icons for a Trinity (Transfiguration) church in Bolshiye Vyasemy village, a domain of Boris Alexeewitch Golitsyn.
1