Reliquary cross (Engolpion)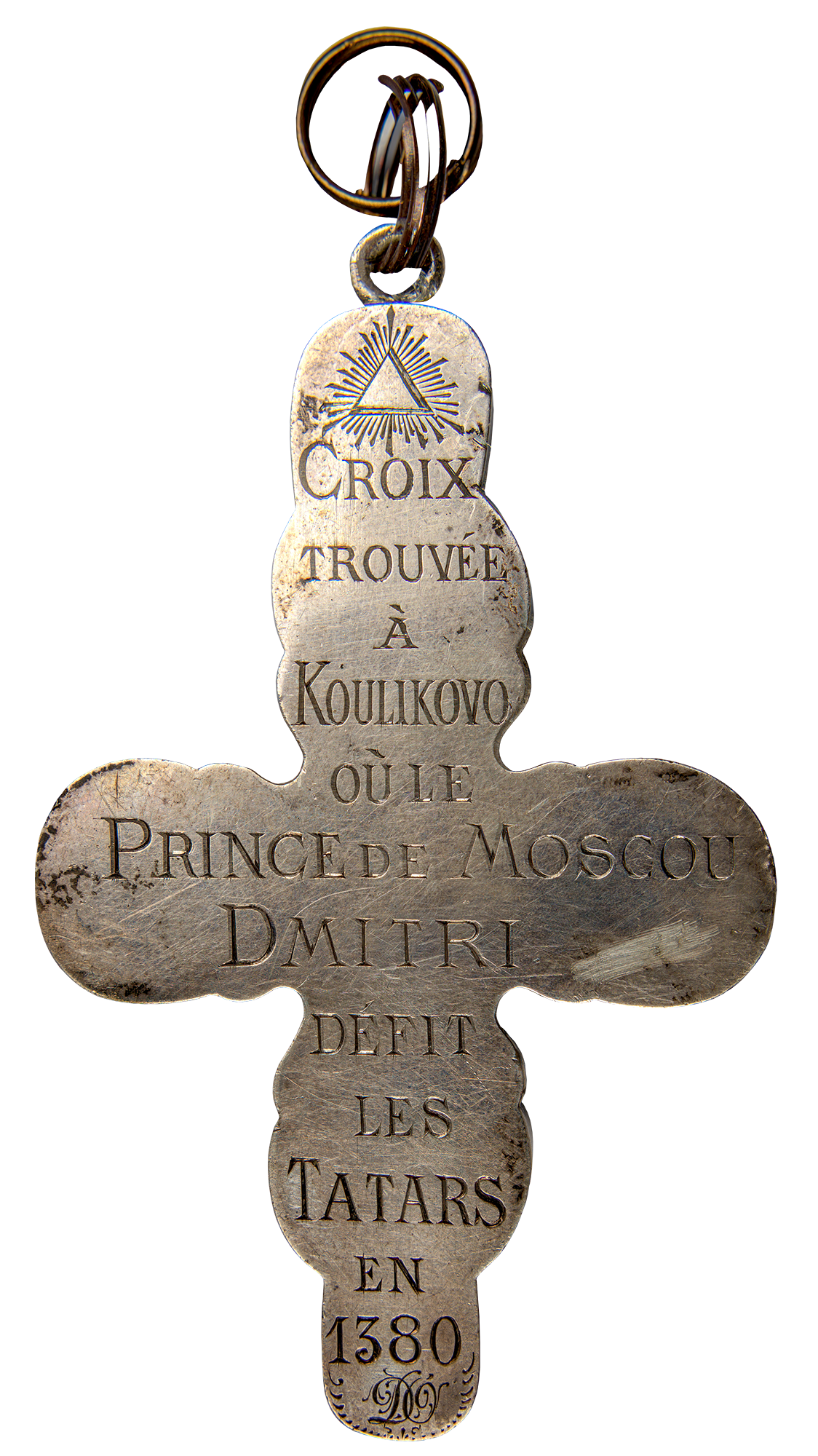 14th century
On a setting – inscription in French "A CROSS, FOUND IN KULIKOVO, WHERE PRINCE OF MOSCOW DMITRY DEFEATED TATARS IN 1380"
Copper; casting. Setting of 19th century – silver; carving
7,7 х 4,5 cm
Acquisition: from the Armory Chamber of Moscow Kremlin in 1925
Showcase 12
A reliquary cross in a silver setting was transferred in 1925 from the Armory Chamber of Moscow Kremlin to the Historical Museum. In 19th century at the reverse side of it an inscription in French: "A CROSS, FOUND IN KULIKOVO, WHERE PRINCE OF MOSCOW DMITRY DEFEATED TATARS IN 1380" was carved.
Engolpion cross is a christcross with a rounded off ends, in the middle of upper part – a relief image of the Crucifixion of Christ, at the ends on medallions – chest-high images of saints and archangels.
Different sources, such as memoires, archive and other documents, say, that in Tula's nobility mansions of 19th century, which were not so far from Kulikovo field, were kept different artifacts and collections of antiquities, found by local peasants at the battlefield. These were coins, spear- and arrowheads, chainmail fragments and other weaponry. Frequently people obtained silver and copper baptismal crosses, next-to-skin icons and reliquary crosses. Perhaps this particular engolpion originates from one of such noble collections, and its silver setting and carving shows a relationship of its former owner to this relic of Kulikovo battle.
More information...
An engolpion (reliquary cross) is a next-to-skin hollow two-parted cross, which was used for keeping the relics. An image of the Crucifixion, Our Lady, evangelists or holy people can be pictured on it. Into the reliquary cross were put either fragments of holy relics. A tradition of engolpions came to Rus from Byzantine Empire, but Russian handworkers have invented new shapes of such crosses, new iconographical compositions and eve new technologies to produce them. Such a cross was worn on a rope or a chain next to one's chest. That is why it is named "engolpion" ("on chest" in Greek). Reliquary crosses were highly valued by their owners, and archeologists say, that they were put into special bags in order not to be lost. People believed that engolpions could guard them of any harm, especially during long journeys.
1